Dog Daycare in El Paso, TX
Doggie Daycare is designed for social dogs to play and have fun. Daycare provides an outlet for excess energy, exercise and socialization. Because each dog's experience is individualized, your pet may play in a group or receive individual playtime with a staff member. Safety is our top priority, and we will never integrate aggressive dogs into a playgroup.
Prior to booking a daycare reservation, we ask the owner to create a profile on this site for the pet and pet parent. Then all required vaccines must be entered into our database. Once that has been completed, the pet parent may request a reservation for a Social Evaluation IF it is your pet's first time entering our facility for playtime. This evaluation is conducted to assess your dog's temperament to ensure that your pet will be comfortable at our facility. This entails the ability to be approached by staff for water and feeding as well as potty breaks and play time. Dogs are NOT required to socialize with other dogs. However, we must be able to determine that your dog will not injure himself, another dog, or staff with aggressive behavior.
Social Evaluation rates are $18 per dog. Dogs MUST be dropped off before 10am and cannot be picked up until 6pm the day of their Social Evaluation.
Please be prepared to provide up to date vaccine records by a United States veterinarian for Rabies and Distemper as well as Bordetella. All puppies under one year of age MUST have 3 rounds of Distemper/Parvo and wait 14 days after the third vaccine. In order to receive confirmation for a reservation, all vaccines must be up to date at the time of the request.
All vaccines must remain current throughout the entire stay. If your dog has never had these vaccines, or if more than one month has lapsed since the vaccine expiration date, your dog must wait:
14 days after the

Rabies

and

Distemper

vaccine
10 days after the

Bordetella

injection OR
3 days after the

Bordetella

if it was intranasal/oral
All female dogs over 6 months old MUST be spayed.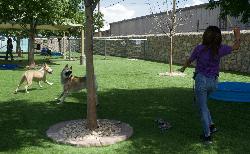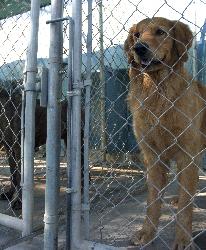 Daycare Hours
Monday – Sunday 6AM – 7PM
Dogs not picked up by closing time will be considered overnight guests and charged the standard boarding rate for that evening.